"Global Entrepreneurship Culture" by foreign delegates for BBA/BCA students
I.T.S UG Campus organized an Interaction session on "Global Entrepreneurship Culture" by foreign delegates for BBA/BCA students on October 26, 2016. The objective of the session was to make the students aware about the nitty-gritty of entrepreneurship at international level. The session enabled the students to understand the scope & challenges faced by entrepreneurs at international level. Ms. Inna Levchenko, Argo-M Ltd from Russia and Mr. Nhampembe Loydy Marrurele, Ministry of Finance and Economy, Investment and Promotion Centre from Mozambique were the distinguished persons to interact with the students.
The session started with the welcome address by Director - UG Campus, Dr. Vidya Sekhri, who nurtured and encouraged the students to take the advantage of session by interacting & sharing their views with the foreign delegates.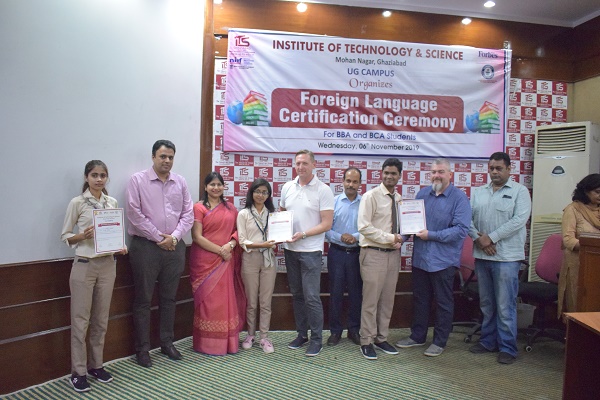 Then Mr. Nhampembe Loydy Marrurele during his interaction with the students shared the entrepreneurship culture in his nation, students also asked very interesting questions and shared their views. After that Ms. Inna Levchenko talked about resources and opportunities for entrepreneurs in her nation. She also discussed about their culture.
Session was ended by presenting mementos to the foreign delegates by Dr. Vidya Sekhri and Prof. Ashutosh Sharma. Prof. Uttam Sharma & Prof. Ashutosh Sharma coordinated the event. Student Volunteers; Mridul Sharma, Sakshi Dhaka, Shubham Singh, Prabal, Aditi & Shubhi were also present during the session.